First reaction:
Oh, a Donghae gif! What he's doing?
…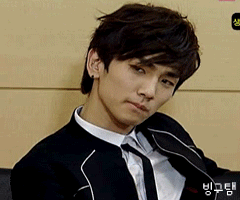 omg…
Second reaction:
Please, give me a minute..
OOOOOMG!!!!!
WHY U ARE SO SEXY??!! I CAN'T EVEN LOOK!! *LIE*
COME TO TO ME RIGHT NOW!!!
Why you're still away from me???
And he would be only like:
I'm going to seduce you till death
and I will forever be like this:
WHY???